Vegan Ice Cream Bombe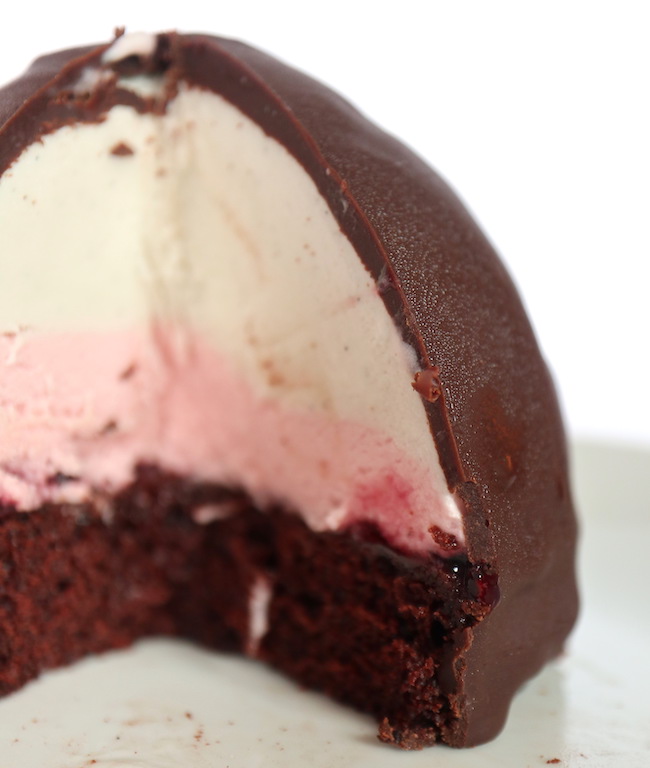 It's almost Mother's Day.
Remember last year when in March and April and we felt terrible for all the people that had Covid birthdays? And then it was May and Mother's Day, and we thought, "okay, just this year, next year everything will be back to normal?"
HA!!
So. Moving on.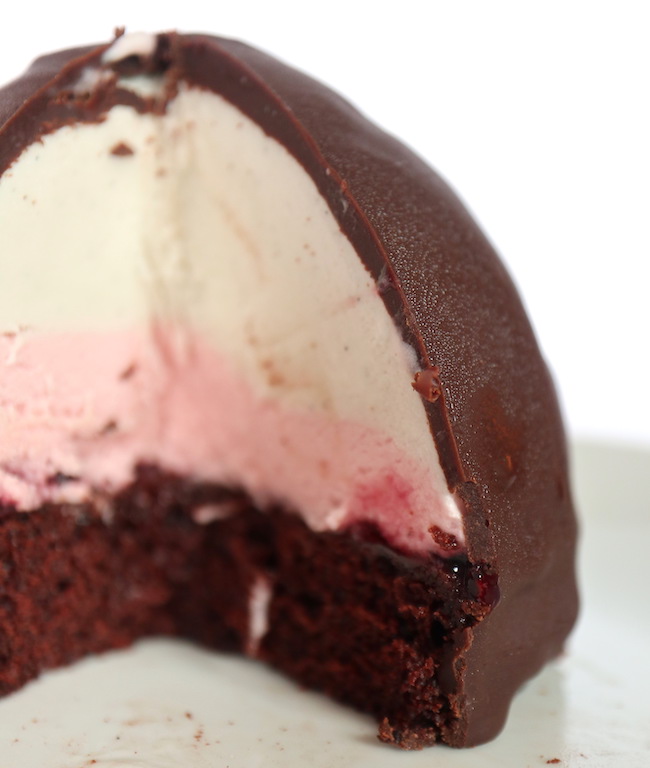 I thought this Vegan Ice Cream Bombe would make a really great recipe to surprise your mom with for Mother's Day. It makes for a pretty fantastic final result that's pretty showstopping, but it's actually really, really simple to make.
I discovered Nora's Plant-Based Ice Cream a few years ago when they exhibited at The Wellness Show. Now, I've eaten a lot of vegan ice cream in my day, and I've even made a ton of it. The big challenge with vegan ice cream is fat. It needs fat both to work and to taste good, which is why a lot of people use full-fat coconut milk as their base. It works really well, but you can never really get rid of that coconutty flavour.
Nora's is made with a cashew base, and boy is it good! Seriously, I challenge to you even know that it's dairy free. They have loads of different flavours, as well. The Peanut Butter Cup is my personal fave, but I used vanilla and strawberries and cream for this recipe, as I wanted it to mimic the pink-white-brown stripes of the Neapolitan ice cream of my childhood.
A bombe is just really simply a frozen, dome-shaped dessert. There's very little actual cooking that goes into this, mostly assembling and waiting.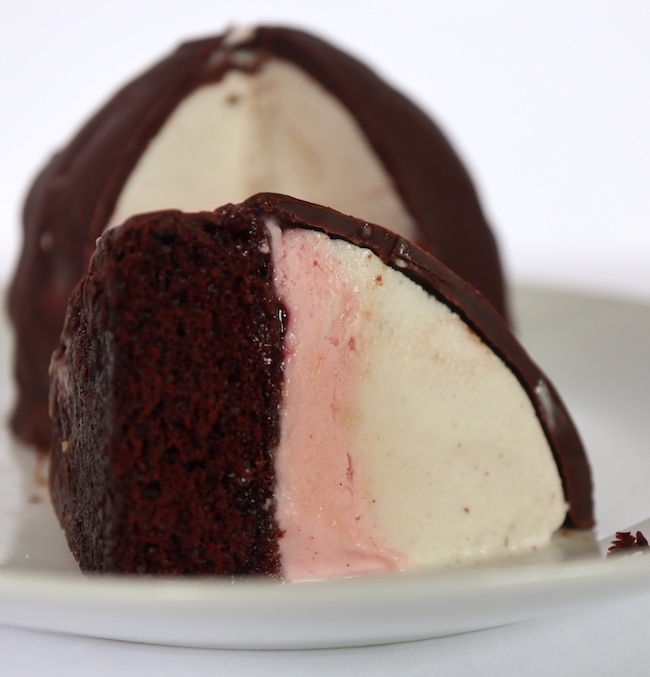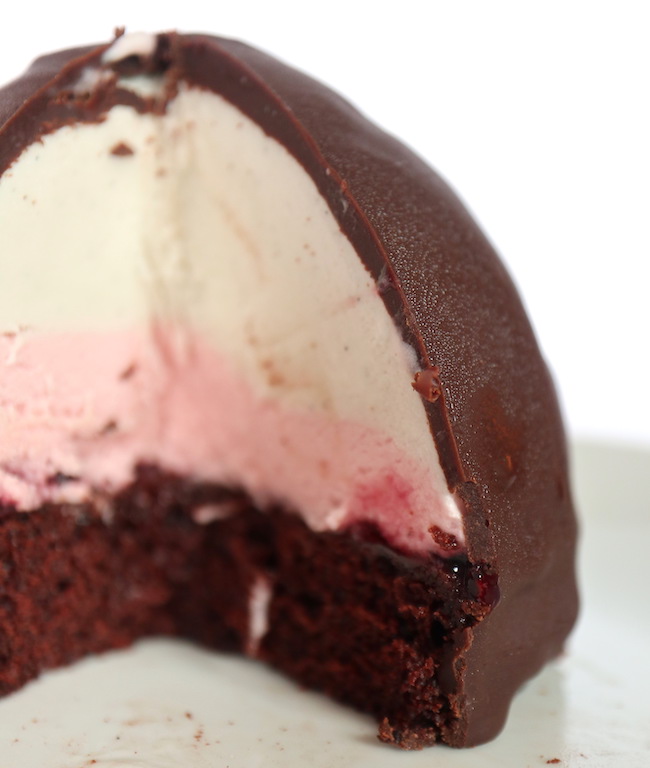 Ice Cream Bombe
A showstopping ice cream dessert!
Ingredients
one baked chocolate cake

about 1"-1½" thick

1

pint

vegan vanilla ice cream

1

pint

vegan strawberry ice cream

¼

cup

strawberry jam or vegan chocolate sauce

½

cup

dark vegan chocolate

½

cup

vegan semi-sweet chocolate chips

2-3

tablespoons

vegan butter
Instructions
Bake a thin chocolate cake. You can either use the box cake mix trick (most box cake mixes are accidentally vegan, check the ingredients to be sure) and bake it on a sheet tray, or I made my mom's Wacky Cake (appropriate for Mother's Day, don'tcha think?) in a 9"x13" pan, so it was about 1"-1½" thick. Don't forget to line your pan with parchment before you bake to make it easy to remove the baked cake from the pan. Once it's cooled, just flip it upside down, remove the pan, then peel off the parchment.

You can either make one big bombe or several smaller ones. I made mine in a 4" round dessert bowl I bought at the dollar store. You could also make one big one in a larger bowl.

Whatever bowl you're using, place it upside-down on top of your cake and trace around the bowl. Then cut the cake about ½" smaller so it fits. After you've cut the cake, wrap it up and place it to the side.

Line your bowl well with overlapping layers of plastic wrap.

Remove your ice cream from the freezer and allow to warm up till it's spreadable and a bit soupy.

Starting with the vanilla, spoon a layer of ice cream into the bottom of the bowl, and smooth it over. Then add a second layer of strawberry. If your ice cream is really soft, you may have to freeze the vanilla layer first before adding the strawberry layer.

Wrap the plastic over the ice cream layers and place in the freezer to set up for several hours, or overnight.

Remove from the freezer and add the layer of jam or chocolate sauce, then carefully place your cake circle on top.

Wrap the plastic over the cake layer and place back in the freezer to set up for an additional couple of hours.

In a double-boiler, place the two types of chocolate and allow to melt down together. Once it's all melted, turn off the heat and start adding the vegan butter one tablespoon at a time.  You may not need all of it, or you might need a little more. You want your chocolate to be thin enough to easily drape itself over the bombe, but you don't want it to be so thin it slides right off.

Remove your bombe from the freezer and allow to sit at room temp for a few minutes. You may want to briefly dunk the bowl in a larger bowl of hot water just to loosen it.

Flip the bowl upside-down onto a cooling rack overtop of a cookie sheet, and remove the bowl. Carefully peel off the plastic wrap.

Pour the melted chocolate all over the bombe, to cover it entirely, using your knife to patch up naked bits.

Place in the freezer to set up one last time.

Serve triumphantly!
---
---