Hi, there!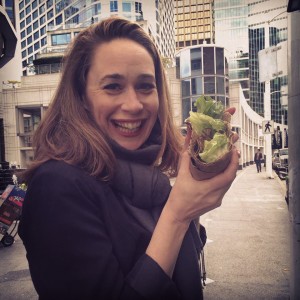 Contact me: grebeccacoleman (at) gmail.com
I'm Rebecca, and I have two big passions in life: social media and food. I've been a writer all my life (I wrote my first short story at 9, and I was winning Provincial-wide competitions at 16), but the true love of my life is my blue-eyed, tow-headed progeny, Michael.
I write a heap of press releases, thousands of tweets, hundreds of Facebook status updates, and blog posts about social media, food and travel. I have published 3 books, and am now a cookbook author, with Aquafabulous!: 100+ Egg-Free Vegan Recipes Using Aquafaba (Bean Water), published in April, 2017 by Robert Rose. 
I am especially interested in restrictive diets: gluten-free, dairy-free, vegan, vegetarian. My most popular posts are on this topic.
Services offered:
Guest posts
Sponsored posts
Recipe development
Public Cooking demonstrations
Spokesperson
Cooking competition judge
Gadget or Cookbook review
Livestream/Interview from your event
Restaurant review
Hotel review
"Where to eat" and "What to see" travel posts
Some businesses I've worked with include:

About me: 
I have been blogging here at CookingByLaptop since the beginning of 2011. It started as a bit of a lark–I have a "serious" marketing blog at rebeccacoleman.ca which I have been writing since 2008–but over the last little while, CBL has become more of a serious undertaking for me. I'm heading deeper in the world of food and travel blogging and sharing the day-to-day experiences of being a self-employed solo-parent who loves to cook and eat.
Street Cred: 
I have a loyal, niche following on this blog. In addition, I have:
Facebook (personal): 1800+
Twitter: 12K+
Instagram: 3300+
Pinterest: 2K
G+: 1000+
Klout: 70+
I am a regular contributor to Vancouver's #1 trafficked blog, VancityBuzz. Some of my favourite posts include:
I have been interviewed as an "expert" by The Vancouver Sun, News 1130, The Express, The Link, and ArtsHub Australia.
Nominated as one of Vancouvermom.ca's Top 30 Mom Bloggers, 2013.
In my other life, I teach people how to use the power of social media to get their message out there, so I'm really great at marketing my posts. I work extensively with businesses and brands as the PR and social media manger for The Wellness Show, Western Canada's largest trade show dedicated to health and wellness.
Testimonials: 
I've worked with Rebecca Coleman in various capacities this past year. She is one of the most knowledgeable Public Relations professionals in the Vancouver community, and walks her talk by putting into practice what she speaks about, teaches, and writes in her blogs and books. It was a pleasure to work with her when I attended and reported on the 2013 Wellness Show. As a blogger, she is fast to respond to inquiries and always keeps lines of communication open. She is a great speaker and a fantastic writer, professional, and thorough in her blog reviews. As a PR Manager I am always looking to learn the newest trends and updates in PR and social media technology, and Rebecca is without a doubt one of my top local resources.
–Sandra Garcia, Conscious PR
Guest Post Policy:
I currently do not accept guest posts.
Disclosure Policy:
This blog is a personal blog written and edited by me. This blog accepts sponsorship, or other forms of compensation, including, but not limited to, free products and services. I always give my honest opinions, findings, beliefs, or experiences in my reviews. The views and opinions expressed on this blog are purely my own.
Save
Save
Save
Save