Vegan Cinnamon Braid
Well, hello there, October.
I'm pretty sure I'm not the only one, but this year feels like it has been both the longest and the shortest of all time.
Like when we were in quarantine? So slow. But things feel a bit more normal now, but also, has it really been six months since the pandemic began? Time feels like it has ceased to have meaning.
But life goes on, even during a global pandemic, and that means seasons changing, leaves falling, and I can start baking again, because it's not so hot. (though TBH I used my Breville Smart Oven Air all summer for baking and it was 6 kinds of awesome).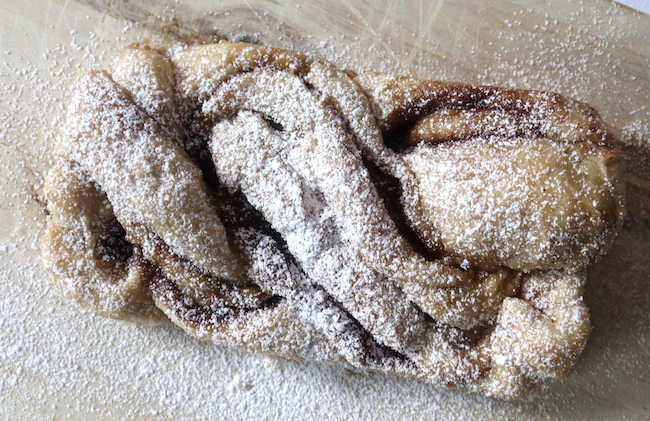 So it's fall. October. Let's break out the warming spices.
Cinnamon.
Nutmeg
Cloves
Cardamom
Ginger
I'm doing some fun experiments with a couple of my other pastry-loving friends (more later), but I've had brioche on the brain. And I started to wonder if I could do a vegan brioche? Turns out you can!
If you wanted to make your life simpler/easier, you could just make this Vegan Cinnamon Braid as straight-up cinnamon rolls. Or if you wanted to make your life easier still, you could omit the rolling all together and just make it as a loaf of bread.
Brioche is what's referred to as enriched bread. "Enriched" usually means the addition of milk and/or egg yolks. The final result is soft and rich.
Obviously in a vegan version there is no milk and no eggs, but Aquafaba makes a pretty good substitute.
The fancy braiding part of the Vegan Cinnamon Braid looks complicated, but I have faith you can do it. It's actually not really that hard.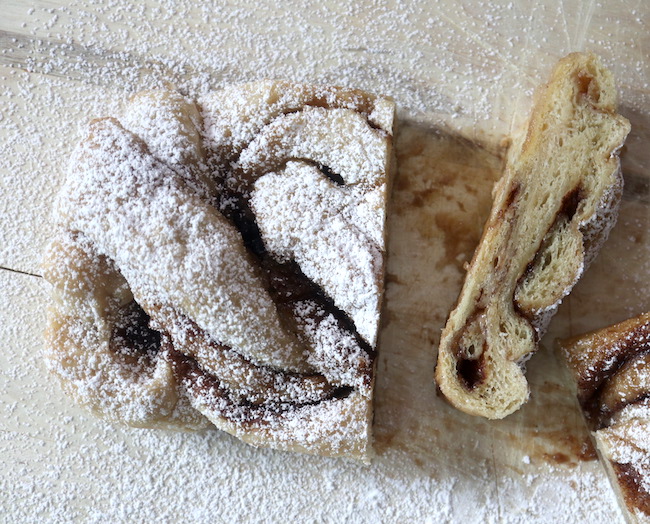 Vegan Cinnamon Braid
ingredients
1/2 cup oatmilk
1/2 cup olive oil
2 tablespoons coconut sugar
1 tablespoon granulated sugar
½ cup aquafaba

2 ¼ teaspoons

instant yeast (or one packet)

½ teaspoon

salt

3 cups

all-purpose flour
2 tablespoons vegan butter, melted
2 tablespoons brown sugar
2 teaspoons ground cinnamon
1 teaspoon ground cardamom (optional)
Method:
In a heat-proof container, whisk together the oat milk, olive oil, sugar, and aquafaba. Place it in the microwave for about 30 seconds. You want it to be warm, but not hot, just a little over room temperature, like between 80-90 degrees.
Place the warmed mixture into the bowl of your stand mixer and sprinkle the yeast over it. Leave for 5-10 minutes to bloom.
Add the flour and salt, and, using the dough hook attachment, begin to mix. Leave it to mix for about 10 minutes until the dough is smooth.
Form into a ball, drizzle a little extra olive oil over and rub it all over the ball. Place the ball back in the bowl, cover, and allow to rise somewhere warm for about an hour.
After the first rise is complete, punch it down and then place in the fridge to do a second, cold rise. This should go for four hours, or overnight.
Remove the dough from the fridge and place on your work surface. Divide in half and then divide each half into 3 to make 6 dough balls. Work with 2 at a time.
Roll the balls out into rectangles, as thin as you can get them. Then brush each rectangle with melted vegan butter, and sprinkle over an even, thin layer of cinnamon, brown sugar and cardamom. Starting at the long edge, roll it up into a roll as tightly as you can and pinch the seam shut. Now using a sharp knife, cut down through the middle of the roll lengthwise. You want to try to get all the way through the outer layers to the centre of the roll. "Butterfly" it flat open. Now take both split rolls and attach them together at the top. Weave one over the other to create the "braid," then pinch together again at the bottom to fasten. Place in a greased loaf pan and cover and allow to rise one last time, about an hour or two.
When you're almost ready to bake, preheat the oven to 375°F, and bake for about 25 minutes, until golden.
Sprinkle with powdered sugar to serve.
---
---