Spaghetti Pie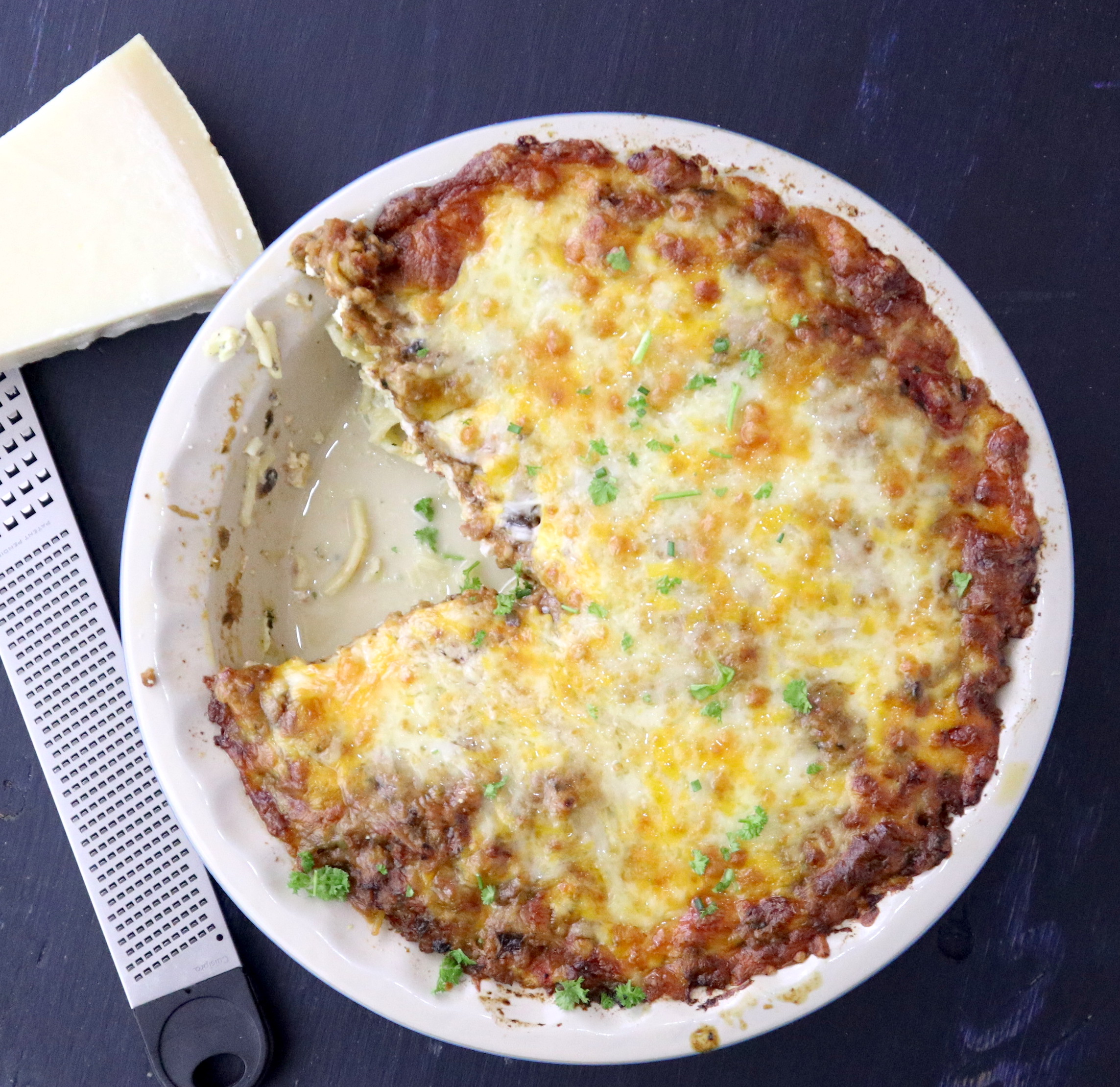 Well, okay then. Here we are in 2021.
Weird how hopeful we were for those first few days, especially, though really not much has changed. We're still in the middle of a global pandemic. But there are glimmers of light on the horizon; a new president will take the White House soon in the US, and hopefully by the end of the year, we will all be vaccinated and safe from the virus.
In the mean time, it's winter, it's dark, and we need comfort food. Ideally comfort food that comes from pantry staples, so we don't have to leave the house.
I have just the thing. Spaghetti Pie.
This is a kind of mash-up of pizza and lasagne. Like a pizza, it has cheese and tomato sauce topping. But instead of a bread-like crust, the base is made of spaghetti. Yeah, that's right! Plus it has the word "pie" in it, so you know it's got to be good!
This would be a great way to use up any leftover spaghetti, by the way, on the off chance that you, like I often do, made too much.
This is a great pantry-staple comfort food weeknight dinner. You probably have spaghetti and a jar of marinara in your cupboard already, and you probably have cheese in your fridge.
In this particular case, I was playing with a new meat substitute that's recently launched in Vancouver called Modern Meat. They sell a bunch of different products (all frozen, so handy to have on hand), like burgers, sliders, meatballs, crab cakes, and a "ground beef," which is what I used to make this Spaghetti Pie.
By the way, feel free to prep Spaghetti Pie in advance, maybe even on the weekend, and then pop it in the oven for a hearty weeknight meal. Pair with a salad and yay! Dinner done.
Oh, by the way, the day I was making this, Smitten Kitchen published this, which would be a very nice variation on this recipe.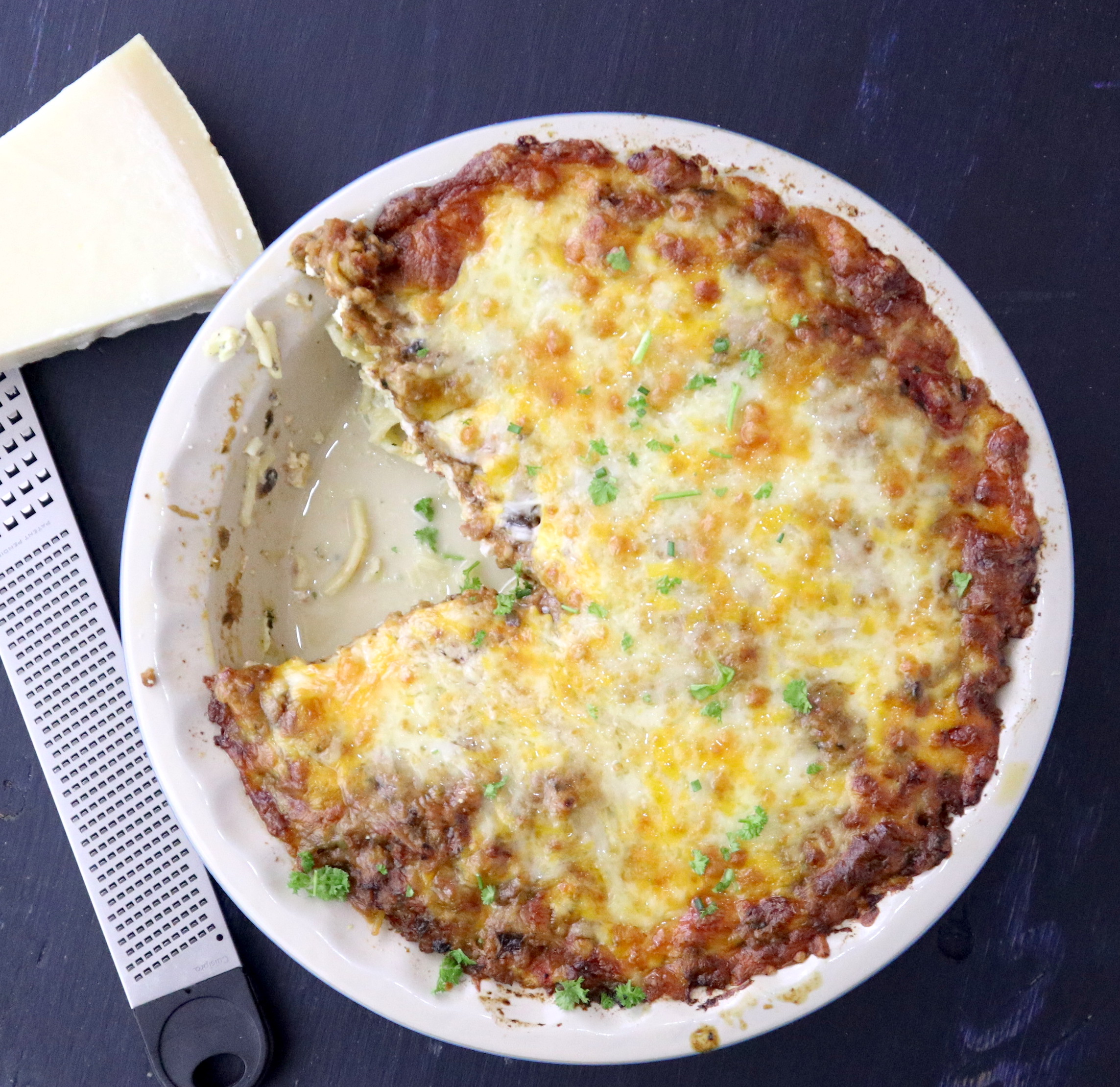 Spaghetti Pie
Ingredients
7

oz

spaghetti

cooked, al dente

2

eggs

2

tbsp

pesto

½

cup

grated pecorino or parmesan

divided in half

i package vegan ground beef

I used Modern Meat

1

cup

ricotta cheese

1 ½

cups

marinara sauce

bottled or homemade

1

cup

shredded melty cheese

like mozzarella

salt & pepper to taste
Instructions
If your spaghetti is not cooked, cook it first in salted water for a few minutes less than the package directions call for. Drain.

In a large bowl, place the two eggs, half of the grated pecorino or parmesan and the pesto and beat well. Add the spaghetti and mix. Season, but be aware that the cheese is quite salty, so don't overseason it.

Grease a large pie plate or a springform pan and dump the spaghetti mixture into the bottom. Spread the ricotta in a layer over top of the spaghetti layer. Set aside.

Brown the vegan ground beef in a large frying pan or a dutch oven over medium heat in a few tablespoons of oil.

Add the marinara sauce, stir well to combine, and allow to cook down for about 5 minutes. Taste and adjust the seasoning. Spread this on top of the ricotta layer in the pan.

Top with the cheeses.

Bake in a preheated 350 degree oven for about 30 minutes, or until the cheese is bubbly and golden. Remove from oven and slice into wedges to serve.
---
---