Sourdough Focaccia
When the going gets tough… the tough head to the kitchen.
Cooking and writing have always been my best therapy. But there's a bonus to being able to cook and bake, and that's being able to take care of other people.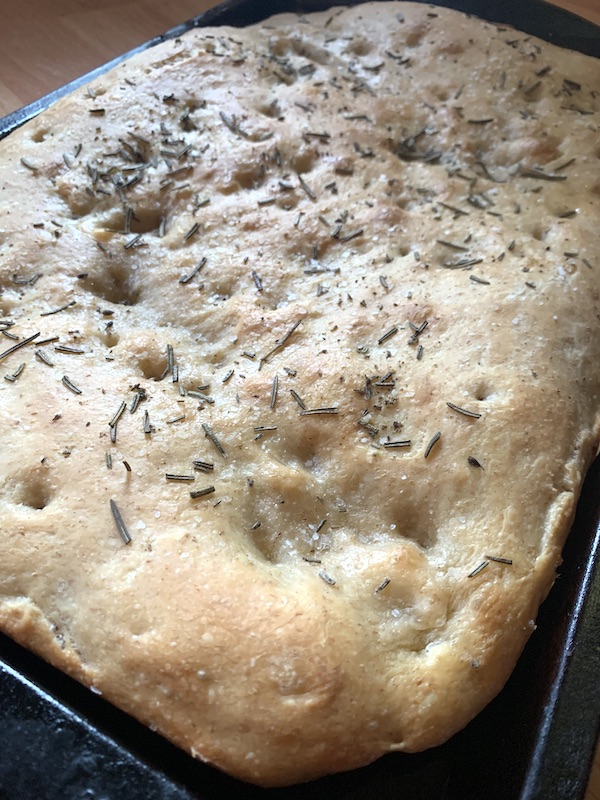 A few nights ago, I made this tray of Sourdough Focaccia. I love making sourdough bread, but I'm moving beyond it (I'm still making loads of bread) to other kinds of baked goods using sourdough. Like Focaccia. I was so happy with it, it turned out so well.
And I was able to leave some for my neighbour.
And I walked a few blocks and left some on the doorstep of my friend Lori's apartment, and then backed away and then texted her. We had a 6-foot-distant conversation, and she placed a container of freshly made banana bread on the sidewalk in front of me.
This is love. This is the new love. Checking in, connecting, still feeding each other, even during a global pandemic when we can't go within 6 feet of each other.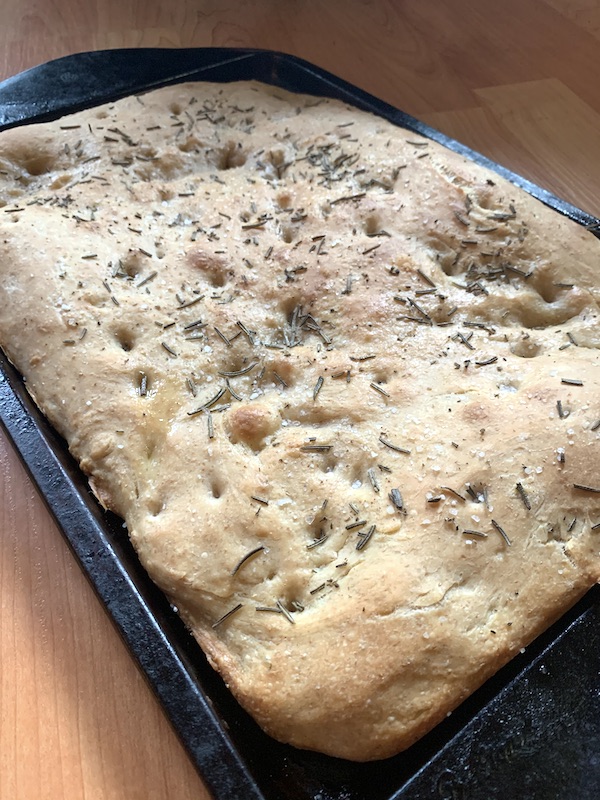 Sourdough Focaccia
Ingredients
1 cup sourdough starter
2 cups warm water
2 tbsp olive oil
1 tsp salt
4 cups flour (I used 1 cup WW and 3 cups AP)
To top:
olive oil
course sea salt
rosemary (dried or fresh, whole)
cloves of roasted garlic (optional)
Method:
In the workbowl of your mixer, place the sourdough starter, the water, olive oil and salt. Mix well together.
Slowly add in the flour, using the doughhook attachment. (you can do all of this by hand as well, it just takes more time).
Once all the flour is incorporated, continue to knead for another 5 minutes or so, until smooth and elastic.
Form the dough into a ball and drizzle over some olive oil. Cover the whole dough ball with a thin layer of olive oil. Place back into the bowl, cover, and allow to rise. You could also do a slow rise in the fridge over night. I let mine rise about 6 hours. It should be doubled in size.
Drizzle a sheet pan with olive oil and brush it all over. Place the dough on the sheet pan and use your fingers to spread it out.
Set aside for 30 minutes in a warm place, while your oven preheats.
Turn the oven on to 450 degrees and allow it to preheat.
Before putting the Focaccia in the oven, "dimple" it with your fingers, then drizzle over more olive oil and sprinkle with course salt. Sprinkle with rosemary and roasted garlic as well, if you like.
Bake for 20-25 minutes, until golden on top. Eat while still warm. I like to dip mine in olive oil and balsamic vinegar.
---
---