Scones à la Forage
I live in the West End, and I have walked past Forage a tonne of times. I even tried to eat there once or twice, but I ended up there at times when they were closed. I was really happy to finally make it there for brunch a couple of weeks ago with my new foodie blogger pal, Emily of The Fat Pigs. You can read Em's post about our brunch experience here, and you can read mine here.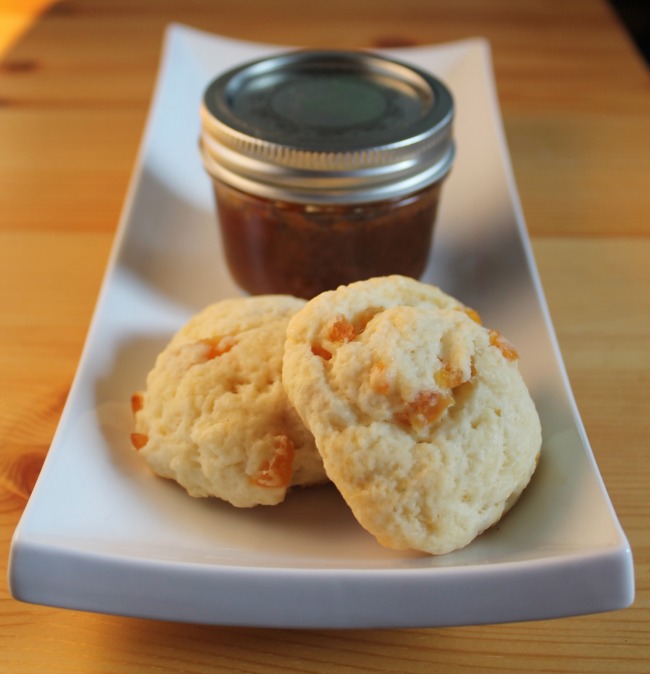 Now, the meal began with the most amazing scones. They were served warm, and the texture was perfect: a little crisp on the outside, light and fluffy on the inside. They came with butter and homemade jams. Em and I both agreed that we could have happily ended our brunch there, with a coffee and a scone, they were that good.
Well, I screwed up my courage and asked the chef for the recipe, fully expecting him to say no. But glory be! Chef Whittaker was in a sharing mood, and I tested the recipe last weekend. It's good. Really good. I have to say this, though: these are best enjoyed hot and fresh out of the oven. They're not quite as good the next day, or re-heated.
Invite some people over and make up a batch. I busted out my homemade jams to serve with these. The Apricot/Peach/Rosemary in particular went well, as well as some lovely tea-infused apple butter gifted to me by Kim Plumley.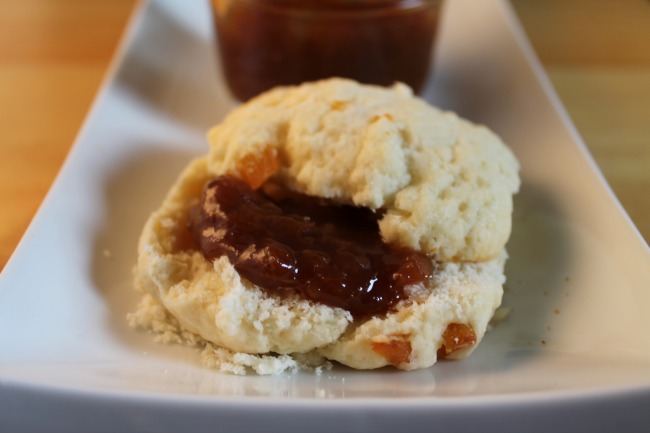 Scones
(recipe courtesy of Chef Whittaker from Forage–if you want to taste his, go for brunch)
Ingredients: 
3.5 cups all purpose flour
1/2 cup granulated sugar
1 tsp salt
1 tsp baking powder
1 cup butter (cubed into 1/2 inch pieces)
1/2 cup milk or buttermilk
2 whole eggs
3/4 cup chopped dried apricots, but you can use whatever you like: cheese, dried fruit, etc.
Method: 
Measure all dry ingredients together and cut butter into dry mixture with pastry cutter (I did this in my food processor).
Mix milk and egg and apricots together and slowly combine with dry ingredients. It is very important not to over mix. The batter does not need to be fully incorporated and smooth. It should look crumbly and just have come together. At this point, I dumped it out of the food processor and onto my countertop and kneaded it a little until it all came together.
Roll dough 3/4 inch thick and cut into squares or circles, whatever shape you desire.
Scramble an egg and brush on each of the scones.
In a preheated 350 degree oven, bake for 20 – 25 minutes. Serve warm.
---
---