Rapini and Barlotti Bean Pasta (with @PastaBoyPeter)
I am lucky enough to have surrounded myself, in this city, with some great people: good friends, and good foodies. Sometimes those lines cross, and those who  were already good foodies became great friends. 
My buddy Peter Ciuffa (aka @pastaboypeter) fits into both categories. Even though Peter was born in Calgary, he is what I would consider to be old-school Italian. He learned all the traditional cooking techniques from his mother and his grandmother, and now teaches classes here in Vancouver, showing others how to do the same.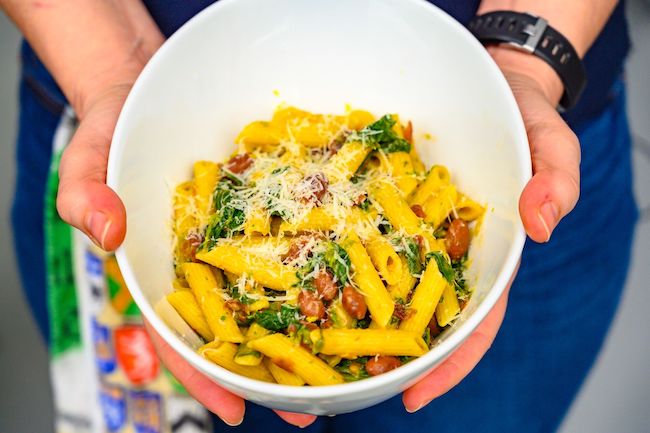 We were lucky enough to find a spare morning a few weeks back where both of us were free to shoot a cooking video. 
Now, this isn't the first time we've done this… and shooting with Peter is always a very organic, fun affair with lots of jokes and laughs, ending in a delicious meal. 
I put Peter in charge of the food, my only request was that the dish be vegetarian (this dish is actually vegan if you leave off the cheese at the end, or sub out vegan parm). The end result was a fantastic, comforting pasta dish that comes together in just a few minutes.
Big shout-out here to Jeremy Dyson of Dyson Media, who shot and edited this together for us. It was no easy task, but the end result looks so much better than anything I could have done solo. 
Don't forget–eat with those you love!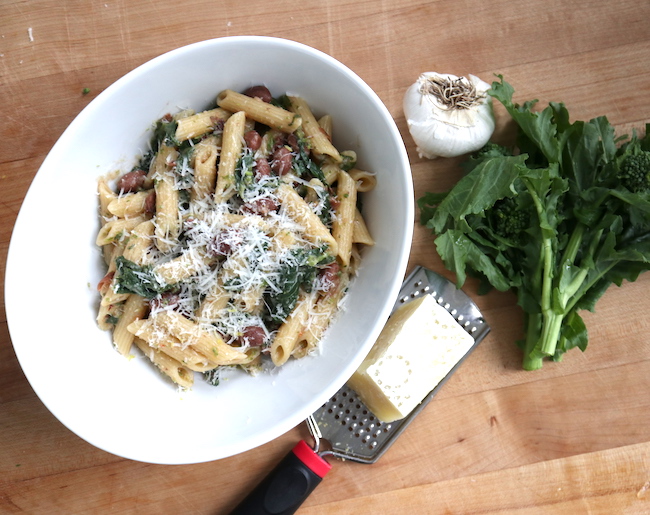 Rapini and Barlotti Bean Pasta
Ingredients:
200 g pasta (we used penne)
Salt
Olive oil
2 cloves garlic
1/4–1/2 tsp pepper flakes (to taste)
1 bunch broccoli rape or rapini (bitter greens)
1 can barlotti or cannelini or navy beans
1/2 lemon
grated parmesan (optional)
salt and pepper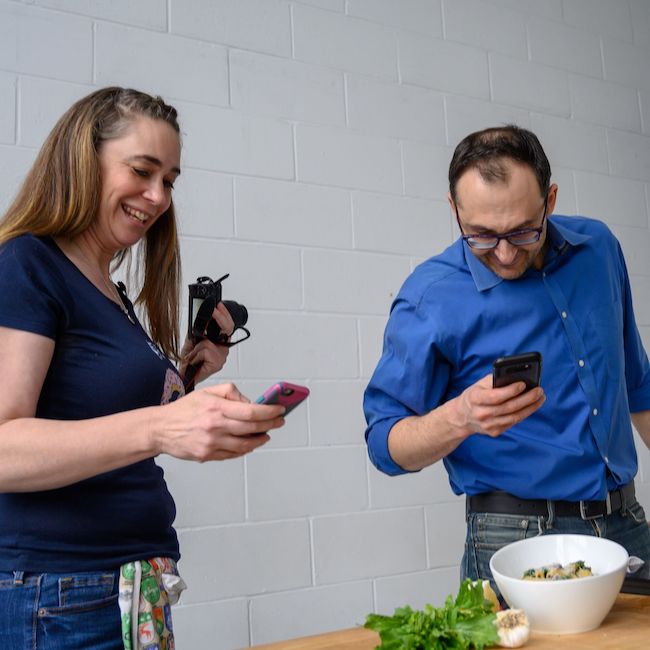 Method: 
Generously salt a large pot of water and bring to a boil. Add the pasta and cook according to package directions, though you want to pull the pasta out when it is still slightly undercooked, or al dente. 
While the pasta is cooking, bring a second pot of salted water the boil, and add the rapini. Cook it until wilted and the stems are tender, about 3-4 minutes. Pull from the boiling water and place immediately in ice water to stop the cooking process. 
In a large frying pan or dutch oven, heat about 1/4 cup of olive oil over medium-high heat. Once the oil shimmers, add some salt and the roughly chopped garlic, and stir until fragrant. Add pepper flakes to taste. 
Next, add in the beans, having drained them (and save the aquafaba!!). Stir well and toss and coat with the oil. Allow them to cook down until they start to pop open and release the starches. 
Next add the cooked and drained rapini, and stir well. 
Drain the pasta, but be sure to save some of the pasta water on the side. Add the pasta to the sauce and toss well, adding additional olive oil or pasta water if needed to make a proper sauce. 
Finish with a grating of lemon zest, a squeeze of lemon, and a garnish of grated parmesan cheese. 
---
---