Mila Plant Based
I've said it before, and I'll say it again: I'm grateful to live in a city that is bursting with an abundance of plant-based restaurants (click to see my favourite vegan dishes in the city).
Not just restaurants in a traditional vegan way. Don't get me wrong, I love the Naam. But increasingly over the last few years, the vegan options in Vancouver are getting more diverse. We have high-end options now, like The Acorn, as well as myriad of comfort-food type places like Meet, The Arbor and Chickpea. And pizza! We have the best vegan pizza in Virtuous Pie.
Well! Good news, my plant-loving friends, because there is a new kid in town, and it's great.
Mila Plant Based just opened at the end of September in the old Juniper space. They've kept the basic design and layout of the original restaurant, including that incredible bar. And they make good use of the bar with their fantastic cocktail list.
Owned by the same folks at Virtuous Pie, and helmed by Chef Jim Vesal, Mila takes a global approach to the menu, which I think is something unique in the city. Like, we have vegan comfort food, vegan pizza, vegan Asian. But the menu at Mila is from everywhere. There's sushi and baos and pasta and burgers and sandwiches, which at first I think I found a bit confusing, but after eating the food, I didn't really care anymore. A chunk of the menu does focus on Asian cuisine, a nod to the neighbourhood in which we find ourselves.
For me, the greatest compliment anyone can give my food is to say "I didn't know that was vegan," or "that doesn't taste vegan." I know, it's kind of backwards, I admit, but my goal is always just to cook really good food, first and foremost, that happens to be vegan or vegetarian.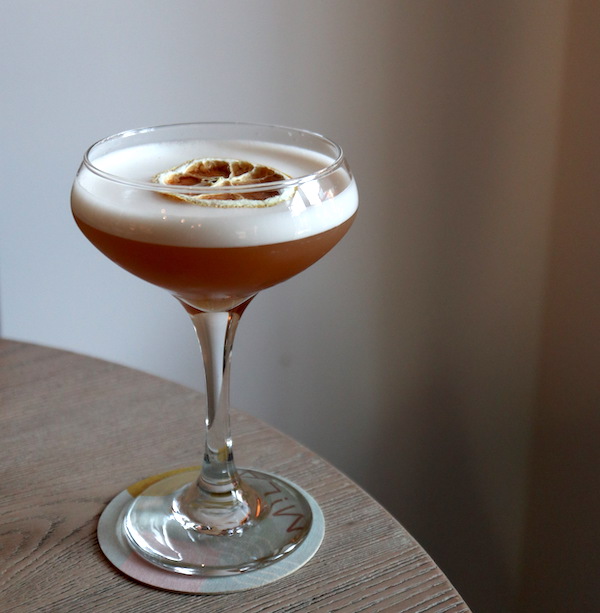 Every dish at Mila was like that. Vegan, all of it, but not so's you'd know. Just delicious, well-made food that happens to be plant-based.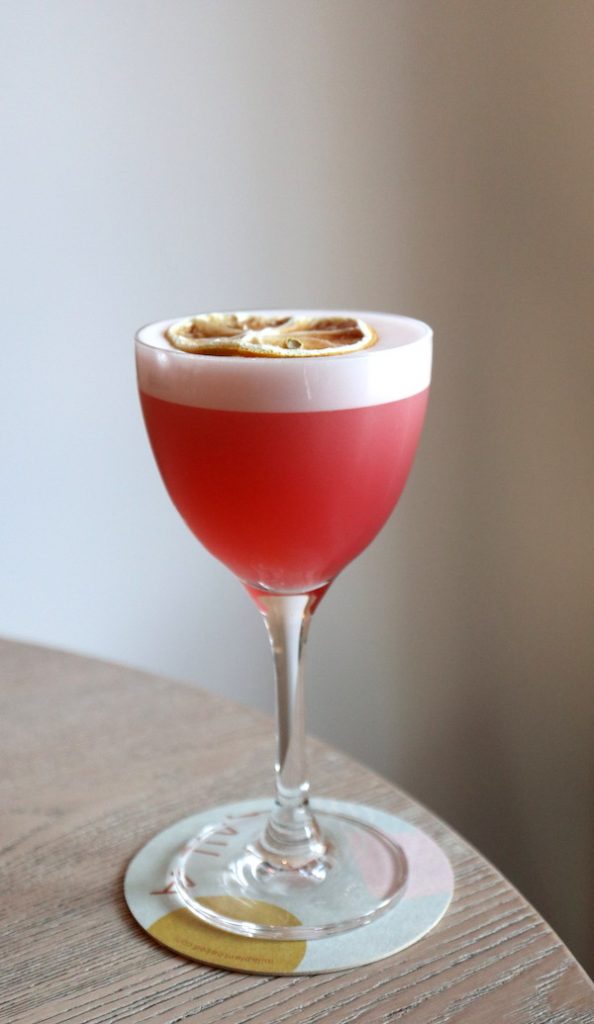 We started, as you should, with cocktails. They have a beautiful bar and a great cocktail program. Instead of egg whites, they use a vegan foamer, and it makes for the prettiest drinks. There's a wide variety of options here, traditional favourites like caesars and margaritas, but with a twist. For me, I couldn't resist the Smoky Mila Sour, a combo of bourbon (I'm a sucker for anything bourbon), a smoky oolong tea syrup and a float of Ardbeg. A lighter and brighter option is the gin-based Clover Club, a lovely shade of pink, from the raspberry syrup. It's also notable to mention they have an impressive line of whiskeys here.
When it comes to starters, there's everything here from soups to salads to toasts to sushi.
We tried the tempeh baos. Pillowy soft rice baos enrobe a hoisin-glazed tempeh, and are garnished with house-pickled cucumber and onion, and topped with cilantro and crispy shallots for a textural component.
Probably my favourite dish of the day was the aburi sushi. Rice is covered with a carrot "lox," and then topped with a creamy vegan mayo and torched. It is the perfect bite.
Mains include English "Fish" and Chips, Mexican tacos, an Italian pasta dish and a good ol' fashioned burger (made with local TMRW Foods patties–my favourite of all the "fake meat" burgers out there).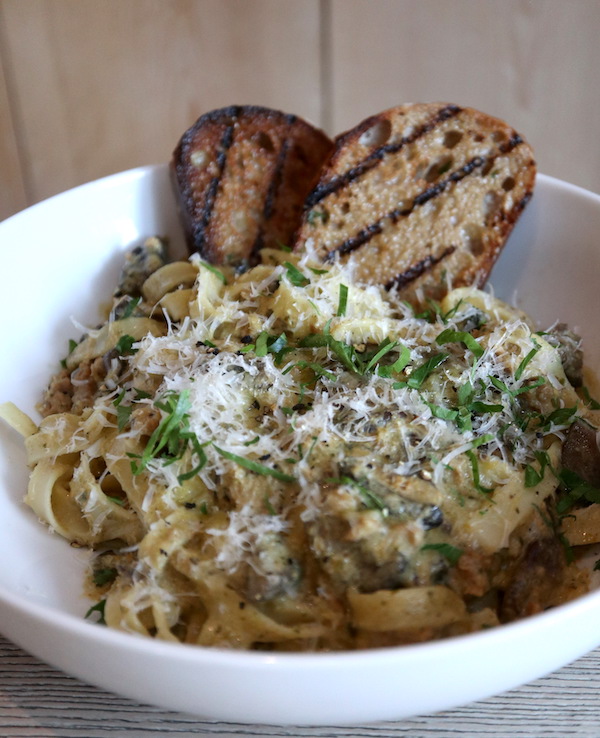 We had the Fish & Chips and the Mushroom and Sausage Tagliatelle. The pasta was bonkers good. Homemade pasta with Beyond Meat sausage crumbles and rich, meaty mushrooms in a creamy cashew sauce–again–the kind of dish you'd expect to be loaded with butter, cream, eggs and cheese, and yet has none of those ingredients. It was immensely comforting and one of the best things on the menu.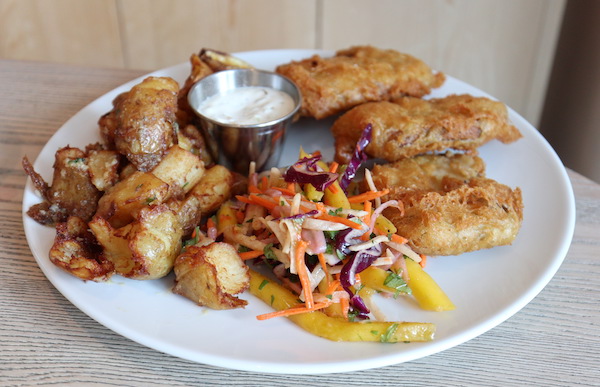 I was super curious about the fish. Turns out it's made with a tempura-battered celeriac root. It's pretty amazing, texturally, when you bite into it, how much it really looks like fish. It lacks the flakiness of fish, but it's a pretty tasty substitution. The dish came with smashed, fried potatoes, a fabulous mango slaw, and of course, a vegan tartar sauce.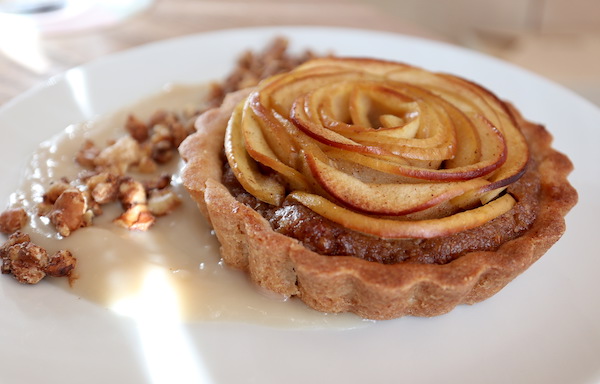 Dessert for us was the month's feature, an apple tart (also gluten free in this case) with a vanilla pastry cream and candied walnuts.
First off, I have to say, it's incredibly wonderful to be able to walk into a restaurant and not have to ask any questions about how the food is cooked. I was safe to order anything off the menu with zero trepidation. That is such a good feeling.
Secondly, this is the place to bring your omni friends. They won't feel weird about any of the food. It's all incredibly recognizable, beautifully presented, and delicious. There is no lack here. There is no "doing without" or "going without." There's no sacrifice in eating here. Just really good food that happens to be plant-based.
I highly recommend you check out Mila Plant Based.
185 Keefer St (in Chinatown)
Open every day for dine-in (with safety protocols), take out or delivery from 11:30 am to 2 pm and from 5 pm to 10 pm daily.
---
---