Flotsam Filo Pie from the IKEA Scrapsbook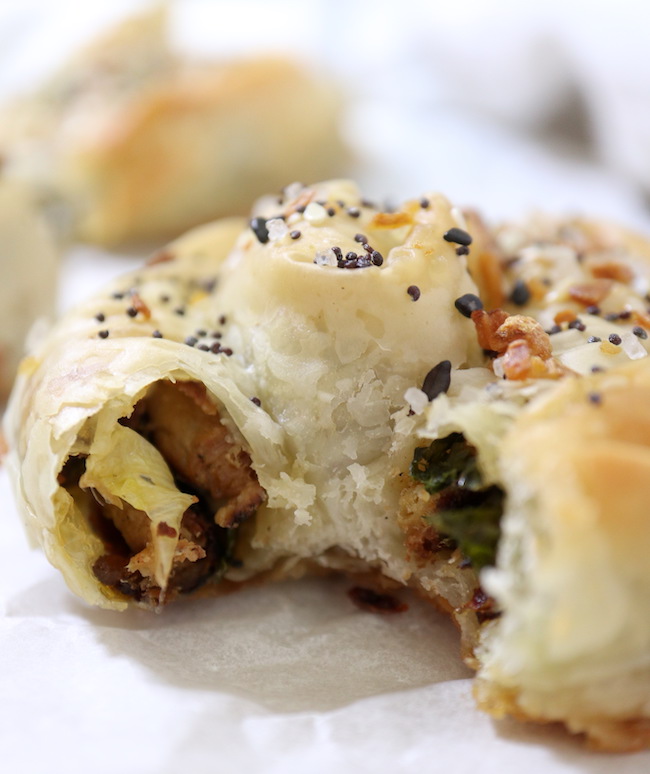 Like many of you, I'm pretty passionate about the environment and sustainability. In fact, the main reason I don't eat meat is because of the environment, and it's become my mission through this blog and my various other outlets (cookbooks, Instagram, etc) to help y'all out there to eat less meat.
I totally get that veganism or even vegetarianism isn't for everyone, and that's okay. But if we all just ate a little less meat, it could make a huge difference for the environment.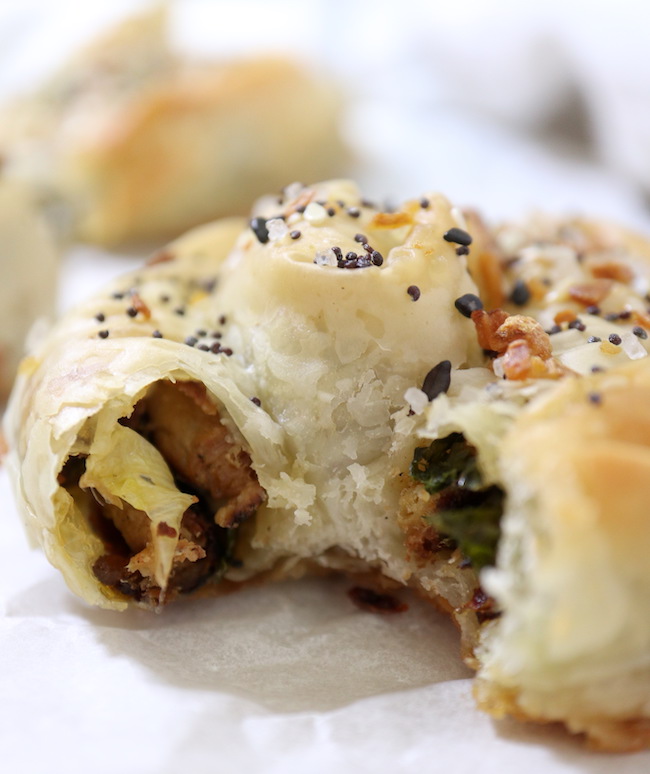 I also try to live a more sustainable life. This includes things like making less waste, taking my own bags to the grocery store, recycling whenever I possibly can, choosing more environmentally friendly cleaning methods, and trying to cut back on the amount of plastic I use.
So I was pretty excited to see that IKEA came out with a new cookbook recently, and its focus is on creating less waste in the kitchen.
Called The Scrapsbook, it's free to download from their website, and features recipes that take advantage of food that would normally be thrown out; banana peels, for example. There's a recipe to turn those into bacon (I haven't tried it yet).
Basically, if you're thinking of throwing it into the compost, IKEA has a recipe to keep it from ending up there.
It's not a plant-based cookbook, though there are lots of plant-based recipes, and many of the recipes are very vegetable-forward. It also features recipes from some great Canadian chefs, including our very own local Trevor Bird.
I thought I'd test one of the recipes the other day, and in the spirit of the thing, use up some stuff I had kicking around, rather than going to to shop for ingredients. I had some filo in the freezer, as well as some TMRW sausage, some kale, and some green onions that were very much past their prime.
Flotsam Filo Pie is inspired by a Turkish pie called Borek. I remember eating them nearly every day in Greece, where they were stuffed with cheese and herbs. Yum! So good. The joy of this recipe is you can pretty much throw whatever you have lying around in there, and it's probably going to taste good, because of the crispy layers of filo that enrobe it.
The recipe in the Scrapsbook was not vegan, so I veganized it.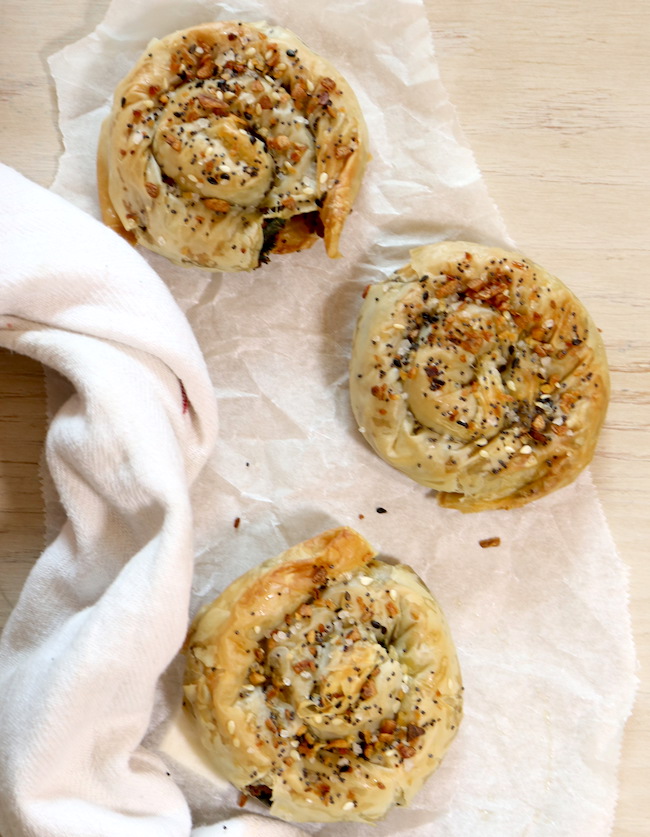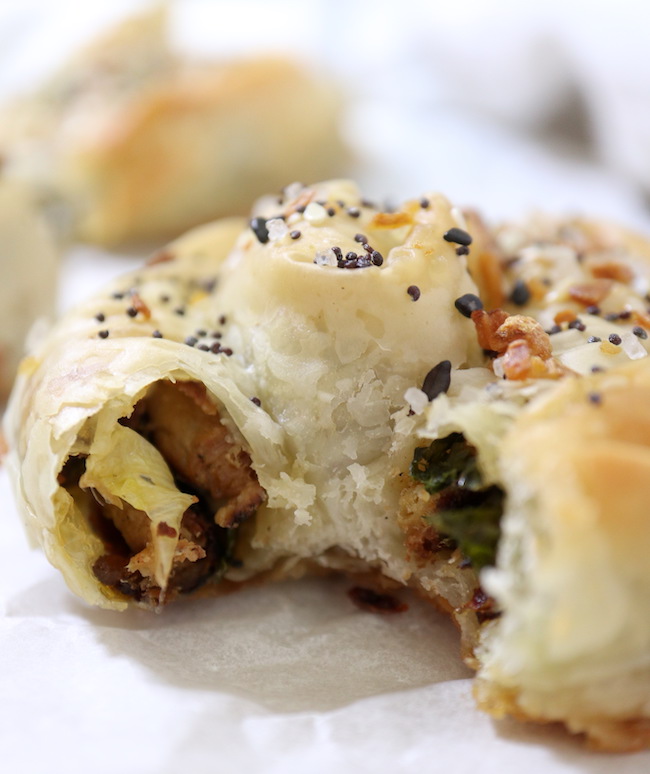 Flotsam Filo Pie
A really simple but delicious recipe to help use up scraps. Inspired by the IKEA Scrapsbook.
Ingredients
8

sheets vegan filo pastry

check the ingredients, most supermarket brands are accidentally vegan

1

vegan sausage

I used TMRW Foods Maple

1

cup

green leafy veg

spinach or kale

6

green onions

or you can sub out fresh herbs of your choice--parsley or dill would work great

1/4

cup

oat milk

1

tablespoon

canola oil
Instructions
Remove your filo from the freezer and allow it to defrost.

In a frying pan over medium heat, place a tablespoon or so of oil (olive or canola) and allow it to heat. Remove the sausage from its casing and add it to the pan, breaking it up with the back of your spoon. Allow sausage to brown, stirring occasionally to keep from burning.

Once sausage is mostly browned, add the green onions and kale, season with salt and pepper and stir well. Cook for about 1-2 minutes, until the greens are wilted. Remove from the heat and set aside.

Cut one sheet of filo pastry in half and then lay each sheet on top of each other, so you have a double layer.

Mix the oat milk and the canola oil together, and brush it all over the filo pastry.

Place about 2 tablespoons of filling all along the long end of the filo pastry and then begin to roll it up so the filling is inside. Once you've rolled it all the way up, twist the entire log into a snail shape.

Place the pies on a parchment-lined baking sheet, brush them with a little more of the milk/oil mixture, and sprinkle with a little flaky sea salt or sesame or poppy seeds (I used everything bagel seasoning on mine because I'm EXTRA like that).

Bake in a pre-heated 350 degree oven for 25 minutes, until crispy and golden brown. Eat while still warm.
---
---