Chocolate Beer Cake
I just got back from a glorious long weekend in Tofino. Everything was perfection.
Normally, when you go on vacation, you hope for good weather. But Tofino might be the one place in the world where people go hoping for bad weather. I spent quite a long time just staring at the ever-changing colours and surf just outside my window, and never felt even remotely bored.
The Tourism Tofino people were extremely kind. They showed us around, and we got to eat at some really great places (I'm still writing that blog post). One of the places we had to visit was the Tofino Brewing Company. Craft breweries are all the rage right now, and Tofino Brew Co, housed in an industrial park just outside the main town, has been making a name for themselves for nearly 3 years.
They do small batches that are seasonally influenced, and they take risks. One of the brews currently on tap is the Kelp Stout. Seaweed is used in all three stages of brewing, the owner Bryan told us. Yup, that's right. Seaweed in beer. But the end result is this kind of salty-sweet-dark combo that I thought would pair really nicely with chocolate. Plus, the carbonation in beer makes cakes light and fluffy. I would love to try this with Tofino's Coffee Porter, as well, if anyone knows where I can get my hands on some.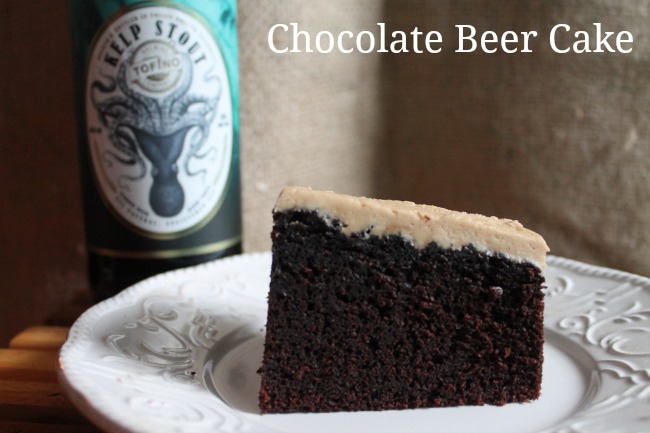 Chocolate Beer Cake
(recipe adapted from the Butter cookbook)
Ingredients:
1 cup hot coffee
1 cup cocoa powder
1 cup Tofiino Brewing Kelp Stout or Coffee Porter
2 cups sugar
1 cup vegetable oil (I used coconut)
4 large eggs
1/2 cup buttermilk (or soured milk–add 1 tbsp of vinegar to it and let it sit for 5 minutes)
1 1/2 tsps vanilla
2 3/4 cups flour
2 tsps baking soda
1/2 tsp baking powder
1/2 tsp salt
Method:
Mix together the coffee and cocoa until they are well combined, and then allow to cool a little.
In the mean time, in a large bowl, beat together the sugar, eggs, oil and buttermilk. Add in the beer and the vanilla.
Combine the dry ingredients all together, and slowly beat them into the wet.
Pour into two round 9″ cake pans that have been lined with parchment. Bake at 350 degrees for about 35 minutes.
Brown Butter Stout Icing:
Ingredients: 
1/2 cup butter
1/2 cup stout
1/2 cup brown sugar
1/2 tsp cinnamon
1/2 tsp vanilla
2-3 cups icing sugar
Method: 
In a small saucepan, heat the butter until it starts to brown. Remove from heat, and add the brown sugar, mixing well to combine, until the sugar melts into the butter. Allow to cool. Add in the beer.
In a mixer, place the butter/sugar/beer mixture, and add the cinnamon and vanilla. Add the icing sugar in, 1/2 cup at a time, until the icing becomes your desired consistency.
---
---