Canada Day Caesars With Maple Candied Bacon
On Tuesday, July 1, we'll celebrate our country's 147th birthday. It's always a fun day, with lots of festivities, a day off work, and red and white.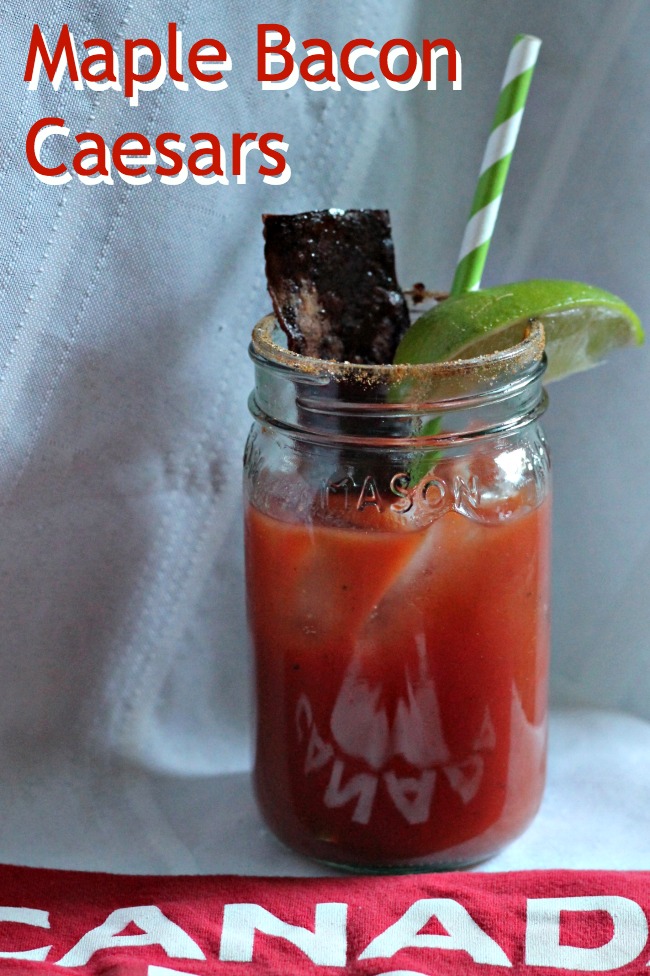 Many people will celebrate with a barbecue, and probably a few icy-cold drinks. For Canada Day this year, I wanted to make the quintessential Canadian Cocktail. It had to include bacon and maple syrup.
You may not know this, but the Caesar is a Canadian drink. Back in 1969, a guy named Walter Chell was opening a new Italian restaurant in Calgary, and he thought "hmmm… vodka, tomato juice and clam nectar… sounds like a winner to me!" And it was. To this day, we enjoy the tomato-and-vodka based cocktail, garnished with a celery stick, with our brunches and at cocktail hour.
There are lots of places in the city to get a fine caesar. One of my faves is at Chewie's. It's hot–comes with lots of fresh-grated horseradish, and is garnished with a prawn. The caesar at The Score on Davie is an entire meal unto itself–it comes garnished with a grilled cheese sandwich, onion rings,  and a deep-friend pickle.
However, making your own is a snap. If you want your Caesar to be truly Canadian, then stock up on Walter's All Natural Craft Caesar Mix. A local company, based right here in Vancouver, Walter's sources premium Canadian ingredients to craft a truly Canadian and also super delicious Caesar mix. What I especially like about this stuff is what it does not contain–high fructose corn syrup and MSG. They have two different flavours, Mildly Spiced and Well Spiced, I'd encourage you to check them out.
Canada Day Caesars with Maple Candied Bacon
Ingredients:
for the bacon:
5 slices of thick-cut bacon
2/3 cup good maple syrup (grade B Amber if you have it, but anything will work)
Method:
Heat the oven to 400 degrees, and bake the bacon for about 15 minutes, until brown and crispy. Remove from the oven and drain well on paper towels. Reduce the oven heat to 350 degrees, and place back on the pan. Pour over the maple syrup, and turn the bacon to coat well. Bake for 15 minutes, turn, and then bake another 15 minutes. Remove from oven and cool on parchment paper. Bacon will crisp up as it cools.
For the Caesar:
Ingredients:
1.5 oz Vodka (I've also made this with Bourbon)
Walter's All Natural Craft Caesar Mix
Worcestershire sauce & hot sauce (optional–the caesar mix already has them)
Lime
Celery salt
Ice
Method:
Pour some celery salt out onto a flat plate. Cut the lime into eighths, lenght-wise, and then cut a small slit in one of the eighths. Place the lime over the rim of the glass, and run it all the way around, transferring lime juice onto the rim of the glass. Now, dip the rim of the glass into the celery salt, until it is well-coated. Squeeze the rest of the lime wedge into the glass, and drop it in, or save it to garnish the glass.
Fill the glass 2/3 with ice, and then pour over the vodka. Hit it with a couple dashes of worcestershire sauce and/or hot sauce, if desired. Fill the glass up to the top with the Caesar mix, and stir well. Garnish with maple candied bacon and serve.
---
---