Blistered Tomato Soup #CookingInColor
Earlier in the week, I was raving about Food Gay's new cookbook, Cooking in Color. It's a book full of vibrant, creative recipes, and it includes some great tips and tricks for those of you who want to up your Instagram game.
I made a variety of recipes from the book, and I look forward to making many more, but my favourite of the ones I made was this Blistered Tomato Soup. I asked Jeremy and Adrian if I could share it with you.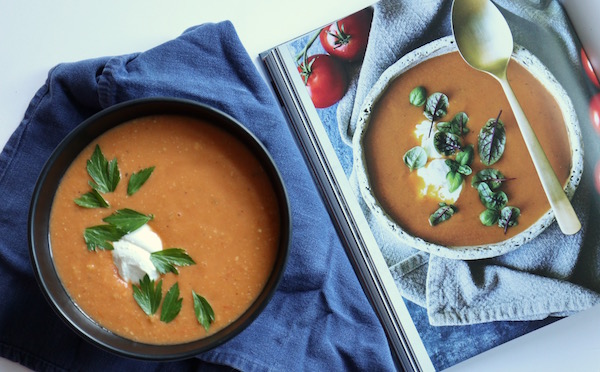 I should say, for the record, that I'm biased when it comes to tomato soup. It is probably my favourite of all my favourite comfort foods. For me, growing up, rainy days merited a can of Campbell's Cream of Tomato soup and a grilled cheese sandwich made with those terrible fake cheese slices. Today, my grown-up equivalent of that meal exists at Burgoo.
This is a lovely recipe. Roasting the tomatoes brings out their sweetness, and while this recipe is vegetarian, it could easily be made vegan by using a vegan parmesan cheese to finish.
You will need a good blender, though, if you want a really creamy final result.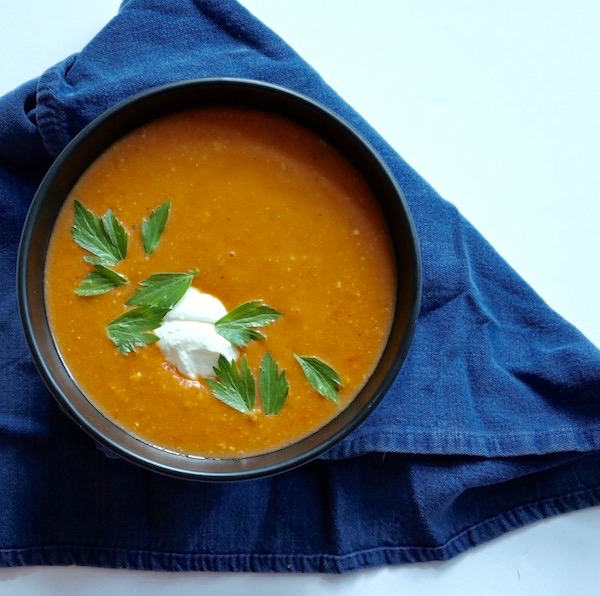 Blistered Tomato Soup
(recipe courtesy of Cooking in Color by The Food Gays)
Ingredients
10 to 12 medium tomatoes on the vine
2 tbsp extra virgin olive oil
1 tsp dried thyme
1 tsp dried rosemary
1 tbsp neutral oil
1 1/2 cups chopped onion
2 garlic cloves, chopped
1/2 tsp salt
2 1/2 cups vegetable broth/stock
1/2 cup finely grated Parmigaiano-Reggiano cheese
crème fraîche or plain greek yogurt for garnish (optional)
fresh basil and sorrel leaves to garnish (optional)
Method
Preheat oven to 400 degrees. Line a baking sheet with foil.
Slice and "X" into the bottom of each tomato and place on the prepared baking sheet. Drizzle with olive oil. Sprinkle with thyme and rosemary. Toss tomatoes until well coated.
Roast in preheated oven for 30 minutes, then broil for another 15 to 20 minutes, until slightly charred on top. Keep a close eye on them at this point–it is easy to burn them!
While the tomatoes are roasting, heat the cooking oil in a soup pot over medium heat. Sauté the onion and garlic for 4-5 minutes, until onion is translucent. Season with salt.
Transfer the roasted tomatoes to the pot with the onion and garlic, and stir well. Add broth. Bring to a simmer. Add cheese, and stir until it melts.
For a smooth soup, transfer to a blender and puree until smooth. For a chunky soup, you can use an immersion blender right in the pot.
Divide soup between two serving bowls. Top with a dollop of crème fraîche and fresh basil and sorrel (if using).
---
---