Back to School PB&J Bars
Well, here we are. Michael and I both started school last week.
It looks pretty different for both of us. It looks pretty different than it ever has.
I'm teaching four courses via online platforms, some with a live video component, some without. Michael is doing his last year of high school, and he's going to classes half time, and doing classes at home half time.
I have concerns. In many other places around the country where they started school earlier than us, COVID cases are popping up. Let's just say I'm not wild about the idea of him having to go to school… but at this moment it's the best option.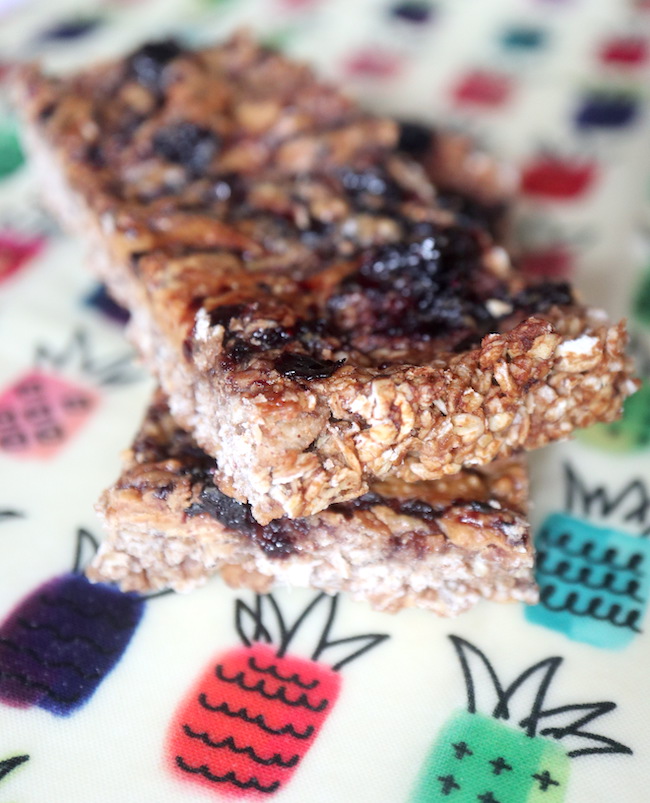 All this week, my brain has been occupied with back to school food thoughts. What? That's totally a thing!
This time of the year, I always start thinking about meal prep and making stuff for the freezer we can use later. I know the world is different this year, that we'll all be spending more time at home, so meal prep isn't as big a deal.
But it still doesn't account for how exhausting zoom classes are, so I stand by my need to have healthy options in the freezer when I am too tired to cook.
These PB&J Bars are one of those options. They're equal parts grab-and-go breakfast and healthy after school snack, portable, freezable, yummy.
You can also customize them and spice them up a little by adding in your favourite ingredients, like nuts, chocolate chips, dried fruit or coconut.
The original recipe calls for peanut butter, and that's what I used because it's what I have on hand (and I love it), but feel free to swap out the peanut butter for any other nut butters you may have on hand; almond or cashew would work just fine.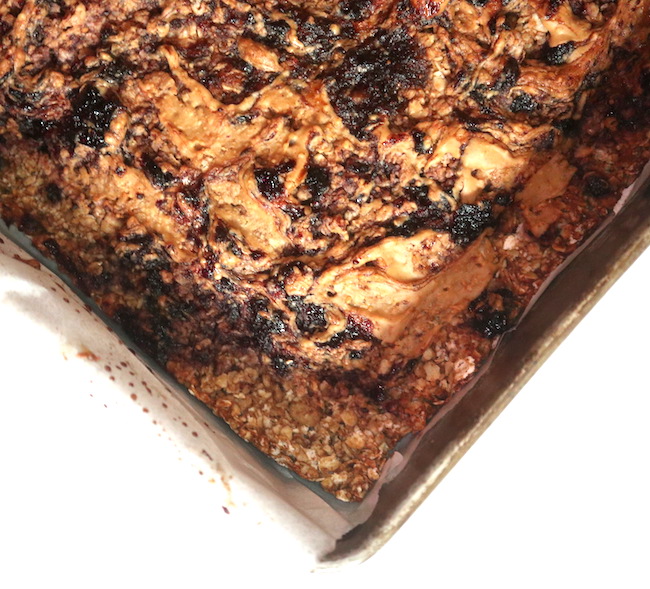 PB&J Bars
(recipe courtesy of Leann Brown's Good and Cheap)
Ingredients
2 cups rolled oats
1 cup crispy rice cereal
1/2 cup peanut or nut butter
1/2 cup jam (divided)
1/4 cup hot water
pinch of salt
Method:
Line an 8″ square pan with parchment. Preheat oven to 350 degrees.
In a large bowl, place the oats and the crispy rice cereal, and any other additions you desire; dried fruit, coconut, mini chocolate chips?
In a small saucepan over medium heat, place the peanut butter, half of the jam, the water and the salt. Stir and let heat until everything is melted all together.
Remove from the heat and pour over the oat/crispy rice mixture in the bowl and mix well together.
Press the mixture into the prepared pan. Now dollop additional blobs of peanut butter and the reserved jam over the top of the bars, and use a knife to swirl it.
Bake in preheated oven for about 20-25 minutes. Remove and allow to cool before cutting into bars. Store in an airtight container on the countertop or freeze them if you are making a bigger batch.
---
---