Back-to-School: Vegan Breakfast Cookies
I'll be honest, I'm in denial.  School starts in a few weeks, and I don't even want to think about it.
This year marks a big transition for us. In June, Michael "graduated" from elementary school, and then a couple weeks later, he turned 13. In just a few weeks, he starts a new school, High School.
Grade 7 was a tough year–academically, it was his most challenging year, and on top of that, there was a lot of pressure as he applied to get into a special program at his high school. After all that was over (and he was in), it was like we could breathe a sigh of relief, and we've been taking a bit of a breather from the pressures of school ever since.
But soon enough, he'll be starting his new school, and I'll be back teaching again, as well, after taking the summer off.
There's a lot to think about, worry about, process through. So it's important that we are well-fed during this time, and that we're not fussing about food. We want to keep it simple and nourishing.
I've teamed up with Save-On Foods to bring you a series of posts, both about how we are surviving this big transition, and also about some of the tips and tricks I've learned for coping along the way.
One of the awesome things Save-On does that will make your life infinitely easier is grocery pick-up. You just go online, clickety-click, order what you need for the week, and then you just pick it up on your way home from work.
For those of you who shop with kids, you will especially appreciate this. Not just the time savings, but you know if you take your kid with you to the grocery store, you are going to come home with things that were not on your list. That always happens. This way, it forces you to stick to just the things you need, making it slightly less realistic that you'll find yourself binging on pizza-flavoured goldfish after they've gone to bed (speaking for a friend, pretty sure I've never done that ;-))
This first post is a recipe for breakfast cookies.
I love these breakfast cookies. First of all, I enthusiastically support the eating of cookies. No matter what time of the day. So… cookies for breakfast?? Sign me up!
Beyond that, though, they are actually pretty healthy. If you think about what goes into a bowl of oatmeal, you'll find all of those ingredients here: whole grains, oats, and fruit.
These cookies can be a choose your own adventure story. Feel free to sub out the cranberries, dates and apricots for dried fruits of your choosing. What do your kids like? Cherries? They would be amazing. Apples? Perfect (maybe add a little cinnamon, too). If your kids are not allergic, you could also add some nuts (walnuts, almonds or pecans) for some additional protein.
One of the things I love about my local Save-On is that they have a wicked bulk section. Sometimes finding these dried fruits is a challenge at the regular grocery store. And when you do find them, they can be stale from sitting on the shelf, or you may be forced to buy a big package of them, and not know what to do with the leftovers, when you just use say, a quarter of a cup. This entire recipe is basically sourced from the bulk section.
The bulk section solves all of this. You just buy as much as you need, and, you can order bulk foods through the online service. And the variety of dried fruits at Save-On is pretty dizzying. In fact, I'd encourage you to experiment with different kinds, and then report back to me which combinations you liked the best.
These cookies are a great, portable breakfast (too busy to eat breakfast? These are great for the car, or if you're walking), or as a snack for recess or after school.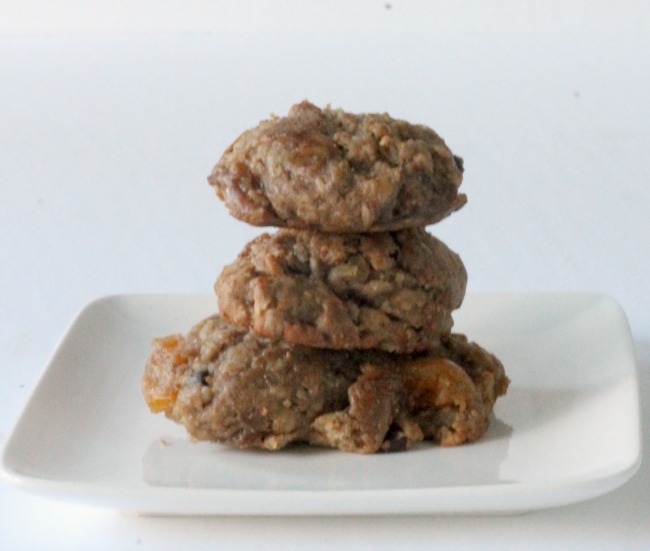 Vegan Breakfast Cookies
Ingredients
½ cup vegan butter
¼ cup aquafaba (the water drained from a can of chickpeas)
¼ cup applesauce
¼ cup maple syrup
½ cup brown sugar
2 tsp vanilla
1 tsp cinnamon
1 tsp baking powder
1 tsp baking soda
½ tsp salt
¼ cup ground flax
½ cup whole wheat flour
1 cup white flour
1 ½ cups large flake or steel-cut oats
¼ cup dried cranberries
6 dried apricots, chopped
6 pitted dates, chopped
Method
In the bowl of your stand mixer fitted with the paddle attachment, place the butter, AF, maple syrup, brown sugar, applesauce, and vanilla. Mix well.
Next, add in all the dry ingredients.
Finally, add the dried fruit and mix well.
Preheat the oven to 350 degrees. Drop by tablespoonfuls onto cookie sheets and bake for 12 minutes. Remove from the cookie sheet and allow to cool on wire racks.
These also freeze well, so feel free to freeze them in ziploc bags in the freezer, and just pull out as many as you need for the day.
Makes about 2 dozen.
This post is sponsored by Save-On Foods, but the recipe and opinions are my own.
Save
Save
Save
---
---