Air Fried French Fries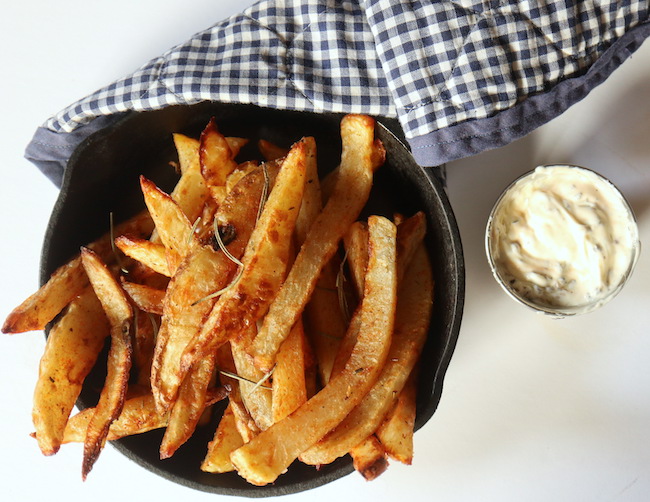 Happy September, friends!
You may have noticed that I have been conspicuously absent these last couple of weeks. There has been a lot going on.
First, it was my birthday, with his whirlwind of parties and cakes and friends. The week immediately after my birthday, Michael and I jumped in the car and spent a week exploring Vancouver Island. He was all about the museums, I was all about the donuts. We both won.
It was a great week, very relaxing; except for one thing. The ring finger on my right hand started to get really sore and puffy. I did my best to treat it, and then I also did my best to ignore it. I was on vacation, after all!
The morning after I got home from the island, reality crashed into my denial and I knew I had to do something about the situation. My finger was so painful and sore I couldn't type, and I definitely couldn't hold a knife or do much in the kitchen. So, off to the doctor I went, and he lanced it (yes, ow) and gave me antibiotics.
Long story short, my kitchen experiments have been seriously curtailed these last few weeks as I wait for my finger to return to normal.
And it's been hard to not be in the kitchen, because, you see, I got a fantastic birthday gift this year: a Breville Smart Oven Air.
So you know how much I freaking love my kitchen gadgets. I have pretty much everything I need now; I have my KitchenAid Stand Mixer, I have my Ninja blender, I have my Nespresso, I have my Instant Pot. But deep in my heart, friends, I longed for an airfryer.
A long time ago, when I was in university, I owned a deep fryer. It was small, but hey, I was just one person. I was a broke student, so I'd make french fries, and it made me happy. A few years later, I got rid of it, and made a vow that, for health reasons, I'd never deep fry at home. I shallow fry, I eat deep fried foods when I go out, but not a home. That was the rule.
But then came the invention of the air fryer. These magical machines create a deep fried taste and texture but without immersing the food in hot oil. You can basically deep fry stuff with just a tablespoon or so of oil! I can hear choruses of angels singing!
The problem with most of those first generation air fryers is that they were massive. Big, heavy, took up a ton of counter space and a ton of cupboard space. I just didn't have the kitchen real estate to own one.
But over the last couple of years, more and more companies have been creating multi-tools similar to the Instant Pot, but that allow you to air fry. 7-in-1 is way, way better than a tool that just does one thing, don't you agree?
The Breville Smart Oven Air is just such a tool. This countertop toaster oven does a myriad of things: it bakes and broils and toasts, as you would expect a countertop oven to do. BUT WAIT! THERE'S MORE! It's also has a proofing mode for bread, it makes pizza, it's a dehydrator, and people, it air-fries!!!
As much as has been humanly possible with my gimpy finger, I have been playing with my air fryer over the last few weeks.
The Breville Smart Oven Air basically uses convection heat to do all the cool things it does. it's a million times cooler (haha for a hot oven) and smarter than my regular oven, and I barely use my regular oven any more. This bad boy is big enough for pretty much everything I need, uses less power, and gets my kitchen less hot, especially during these last few hot weeks of summer.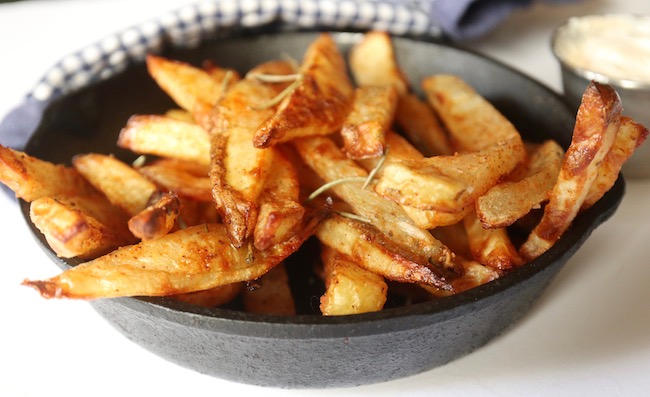 Okay, but enough about that. I'm sure I'll be talking about this machine for a long time to come. On to the recipe!
If you've ever had a really good french fry, it's probably because it's fried twice. Those smarty-pants Belgians, who invented (ironically) the ol' French Fry, would fry the potatoes twice: first at a lower temp to cook the inside, and then again at a higher temp to make them crispy on the outside.
And that's how these work. This method creates the perfect Air Fried French Fries!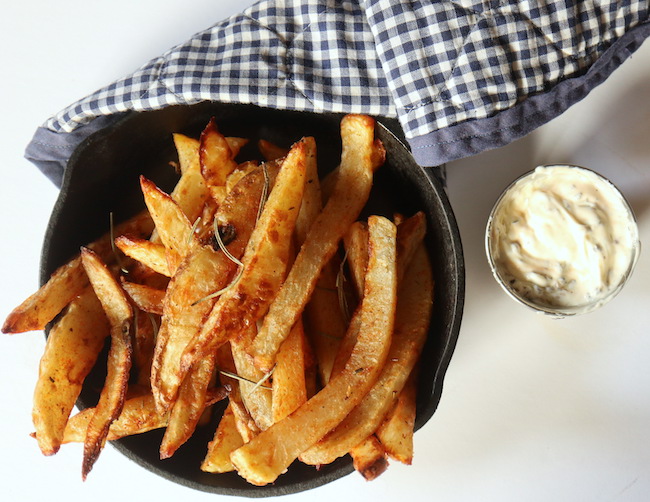 Air Fried French Fries
The best! Air-Fried French Fries!
Ingredients
1

largeish russet

baker potato

salt

oil

seasoning of your c
Instructions
Scrub your potato and if you like, you can peel it, though you don't have to. Cut the potato into french-fry size/shapes. I cut mine in half length-wise, then place the cut side down and cut in half again (length-wise). Each half gets cut 3-4 times, then place those on their side and cut into "fries." Place the cut fries in a bowl of cold water and allow to stand for about a half an hour. Soaking helps remove some of the starches that will make your potatoes gluey.

Drain the potatoes and spread them out on a clean kitchen towel and pat as much water as possible off of them.

Preheat your air fryer to 325 degrees.

Place the potatoes on your mesh air fryer basket, and spritz them with oil, either from a spray bottle or by using a commercially available oil spray like Pam.

Air fry for 7-10 minutes, or until the potatoes are floppy, indicating that they are cooked in the middle. Be sure to shake the basket halfway through.

Place on the counter and allow to cool down to room temperature (about 20-30 minutes).

Preheat air fryer to 400 degrees.

While the air fryer is heating, dump your fries into a bowl, and add 1/2 tbsp of oil and all of your seasonings. You'll need about 1 tsp of salt, and then I also used 1/4 tsp smoked paprika, 1/2 tsp garlic powder, and some crushed rosemary. Toss well to combine. Place back on the mesh air fryer basket and spread out in a single layer.

Air fry for an additional 7-10 minutes, tossing or shaking half way through, until potatoes are crispy.

Serve immediately with ketchup, aioli, Mayochup, or my personal fave, truffled mayo.
---
---